I thought a personal post was way overdue, so here it is :). Fist off I again want to thank you all for your continued support. If it wasnt for all of you sharing what I do, I wouldn't have been able to reach all the families I have already written names for. Please continue to share this blog and my facebook page with other bereaved parents so that I can continue to share my humble gift with them.
Also, please check out the buttons of blogs/pages I have listed to the right. I am always adding more buttons that have touching tributes and/or fantastic resources. Feel free to share these as well. The newest button to be added is "In His Name." This is a fantastic page made my one of my dear friends who sadly lost her little boy to SIDS. She has created this page as a support page with valuable information and resources for any parent that has lost a child to SIDS/SUID. Click the button below to check out her page: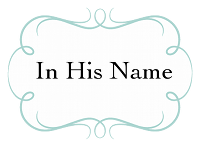 I also wanted to update that all the names that were previously in waiting have been posted. I believe there is one name in the queue right now that was requested earlier this week. So if you have made a previous request and have not seen it posted, then I did not receive it.
I leave you with a quote I heard earlier in the week and it stuck with me. I created a little photo to go along with it. I hope you enjoy it as much as I do.